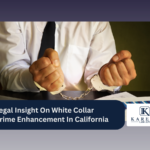 Discover crucial insights into White Collar Crime Enhancement in California. Consult top white-collar crime lawyers for expert guidance.
Read More »
BEST CRIMINAL DEFENSE ATTORNEY
Preserving Relations are the Basis of Success.
At Kareem Law APC, we know that busy people don't have time to check that they're talking to the right people. To make this process go more smoothly, we are here to help.
REAL STORIES FROM REAL PEOPLE
Read Reviews from Our Former Clients
Mr. Kareem has been very cooperative and attentive. He's reliable and accommodating. I was in need of a lawyer and called many, however, most sent me to automated systems or... read more had to leave a message with secretaries. Mr. Kareem called me back himself within minutes. Something most lawyers will not do. Mr. Kareem is a great person over and humble. May god bless him in every way for prioritizing his clients as much as he can during nerve wrecking times.

Ashley C.


2/06/2023

I had reached out to Kareem Law APC after finding out I was being wrongfully accused of an incident, and he immediately called me back late at night. I have... read more never been through the legal process or ever thought I'd be dealing with a potential lawsuit, and my anxiety and emotions were incredibly high.

He took the time to listen to the events that happened, reviewed my evidence, and educated me about the law process. Him and his team moved swiftly and began speaking to detectives and submitting my evidence on my behalf.

My case was eventually rejected and I owe it all to him and his team,  their speediness, and effort they put forward on my behalf.

He was always available and understanding, I couldn't be more happy with them and would refer them to any friend or family member.

If you are in need of a lawyer, or think you may need one, give him a call right away!

Andy K.


1/31/2023

Kareem was super responsive and helpful. I highly recommend him because when you need services from an attorney/lawyer you want someone who will be in constant communication. Thank you Kareem.... read more

Erika R.


1/26/2021

Mr. Ramadan is an amazing lawyer. I had a case that I wanted to get off of my record from a mistake I made in my youth and he was... read more able to get it dismissed with ease. He reached out any time there was an advancement in the dismissal of my case and he would answer any questions I had regarding it. He puts his customers first and for that, I could not be any more thankful that he was my lawyer for my case. He is honest, reliable, and thorough. I am so happy I had him for my case and now I can finally move forward in life without anything holding me back.

Melissa S.


5/17/2022

Where do I even start with Kareem... I got into some trouble recently and needed some help as I do not know anything about laws and what my next steps... read more would be. Kareem answered all my questions I had and his team is very very responsive and reliable. I had a court date a week after my release and he had no problem with how soon it was. When he first called me the first thing he asked was "how are you doing?" It made me very comfortable and I felt no judgments whatsoever from him from my mistake I had committed. His positivity was a big relief to me and I can't thank him enough, truly! As of now, everything is taken care of and Kareem and his team truly saved me so I can be the amazing person I am with lessons learned. Thank you Kareem again!

Cory R.


2/15/2023

I contacted Mr. Ramadan about my son who has an Intellectual disability, he had been arrested in LA county for auto theft placed against him by his employer. My son... read more was permitted to possess the company vehicle by his supervisor. It couldn't have happened at the worst time. My family was in the transition of moving out of state. My son was en route to return the vehicle when he was notified that there was a problem with him having possession of the vehicle when he was arrested by law enforcement. Thank God I was able to find Attorney Ramadan. He immediately went to work on my son's case. Mr. Ramadan assured my family that everything was going to be alright and he would get all involved to understand the truth. He hired an excellent investigator to collect the facts, compiled the evidence, and presented it to the courts. Mr. Ramadan and his staff presented a professional and concise illustration of the facts concerning the auto theft case. My son's case was fortunately dismissed and my family was able to move out of state as planned. Thank you, Attorney Ramadan, for the compassion, and the care you showed my family and son, I will always be grateful to you.

Maurice C.


11/15/2022

I needed a lawyer for my son that got himself into trouble. This was the best decision that I made, even though I did not have the extra money for... read more this expense. Kareem, after my first phone call was able to go down to the Jail  to put eyes on my son to make sure that he was OK. After paying a hefty bail 10k now I  regret that I didn't listen to Kareem, and let my son sit there to make sure his lesson would be learned. This was for parents worst nightmare, and I never saw it coming . My young adult son was facing heavy criminal charges of 5 years.
Kareem worked with my family and I, thanks to Kareem he was  able to get my son plea deal summarized probation/work release program. my health isn't the best. This is a very stressful time for my family and I don't know what I would have done if he was convicted and sent to serve hard time that was the unimaginable for me. My son is only 20yrs old. I am truly thankful for Kareem for his help and expertise, helping me through this very difficult time. Kareem put my son best interest first. I would recommend him to anyone who finds themselves in need of a attorney he'll help fight for you.

Cherie S.


4/15/2023
KAREEM LAW APC – CRIMINAL DEFENSE LAWYER

Attorney Kareem uses his training and experience as a former prosecutor to defend clients throughout Los Angeles and San Bernardino. If you are arrested or charged with a criminal offense, you need someone with experience to defend and protect your rights. Call Kareem.